Sanity
for
today

As you may know,Shock Treatment is the somewhat unsuccessful sequel to the Rocky Horror Picture Show. In my opinion,NOTHING can compare to RHPS but even then I must admit I was a tad traumatised when I saw Shock Treatment for the first time.
It`s about Brad and Janet,now unhappily married and living in Denton. They are part of an audience for DTV,the local television station,and they soon become part of the show,first on a gameshow called Marriage Maze,but then they become trapped in the world of television.Brad is sent off to a mental home,dentonvale(where Cosmo and Nation -Richard O`Brien and Pat Quinn-rule supreme).Janet is seduced by Farley,an evil fast food king who turns out to be Brad`s twin brother.
The scariest thing about this sequel in my opinion has to be Janet! Now played by Jessica Harper,her voice is deep and she is as unlike Susan Sarandon as is humanly possible.Having said that she is very good,and although her voice may be a tad alarming at first,it grows on you!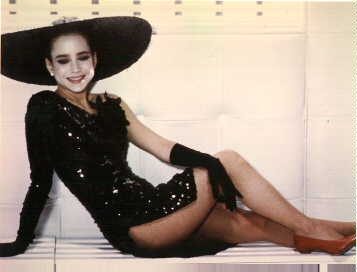 I know that lots of people haven`t seen the film,particularly if you live in Britain where it`s almost impossible to get a copy,so if you`re going to see it,banish all thoughts that it might be like Rocky.You`ll only be disappointed.This film doesn`t have the same attitude as Rocky,and I think the characters are pretty poor compared to the Rocky ones,but NO!Don`t compare!Watch Shock Treatment for itself and you`ll find it has some pretty cool stuff all of its own!!!