Rocky Horror in Scotland!
WARNING

This webpage will soon become phased out. I have made a new webpage which is the definitive page for Rocky Horror in Scotland at its own groovy domain name:
Please update your bookmarks and tell your friends! And enjoy the new website :)

So,you want to know what cool,fab and groovy stuff is going on in the Scottish Rocky Horror Scene?Well,you`ve come to the right place! Here`s what`s on,when,where and what to wear!
NEW!!!

A new review of the June QM show has just been sent in by some of the audience members.Click here to read it!

The new Grosvenor February `99 photos are in! Go admire!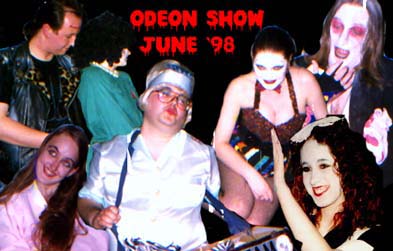 Also, Photos of Dr Scott`s Extra Forks from our December Odeon Show!
---
Rocky Dates for your Diary!
After what seems like a lifetime of no Rocky in Scotland,suddenly there`s nothing BUT Rocky!Hooray!Here`s a guide to what`s on soon as far as I know.More info as I receive it!

*The date has still to be announced (will probably be August)for a spectacular Odeon, Hamilton show coming soon! They are going to knock down the Cinema to make way for a new bypass So the final performance is to be "Rocky Horror" meaning we have total permission to TRASH the cinema!!! (not that we usually don`t right enough:) We have some really cool and exciting ideas to make this a show to remember so if you`re looking for a totally wild Rocky, this is the show to be at!

You`ll be glad to know that Scotland has not been forgotten on the Autumn leg of the Rocky Horror Show tour.
Confirmed dates:

*Week Commencing 11th October: Glasgow - Kings Theatre.
Tickets at 0141 2875 5111

*Week commencing 18th October: Edinburgh -Kings Theatre.
Tickets at 0131 220 4349

*On October 30th it`s Transylvania 99, the British convention and some of the Extra Forks will be there, will be performing and generally having a good time. Hope to see you there! (For more info about the con Click here)

*On Friday 12th and Saturday 13th November the Caledonian Grosvenor in Ashton Lane, Hillhead, Glasgow will be showing Rocky Horror. Rocky was sold out a week in advance the last time we did it there (February, Click here for pics) so you`ll be glad to know that tickets are ON SALE NOW. Book early to avoid disappointment and all that!

*Still a special Odeon Glasgow show to be announced... watch this space!

*Our Whitby show went down so well they`ve asked us back so that should be in February 2000.

It`s all go in Scotland for Rocky events so pull on your fishnets and come along!
---
New Scottish Web Site
I am currently in the process of making a new Scottish Rocky website resource which is looking quite good and should be up in the next month. One of the sections will be devoted to Scottish contacts so that Scottish Rocky fans on the net will find it easy to find each other. If you would like to be included in this please mail me with your name, town and e-mail address (and optional home address which I will not publish but may use for sending fliers etc).
Also included in the new webpage will be reviews of various Scottish Rocky events people have attended. If you`ve been to a Rocky event recently and feel like telling the world about it, please mail me with a review and I will include this on the site too.A new review of the June QM show has just been sent in.Click here to read it!

Thanks for your help. I hope this website will be a useful, informative and fun to read Scottish Rocky resource!
The Extra Forks Last Year...
Last year was a really successful year for the Extra Forks, starting off slowly and then hotting up with our big Odeon Show in June. Then we had our Scottish Youth Theatre show in July where we corrupted innocent drama students aged 12-15 in a church hall in collaboration with Fleapit Film Club who screened the film on 16mm. Then followed a show at Cumbernauld Theatre. Our Whitby shows were postponed until further notice due to accomodation problems but then our two Odeon Glasgow shows in December were great and they`re planning to have us back as a regular event!

If you`ve been to one of our shows and want to post a review on this site, e-mail me with what you want to say and I`ll stick it on the site!

Last year was also a good year for recruiting loads of people and our main members at the moment seem to be:
Frank......Emma
Brad.......Eddie
Janet......Carole/Jennie
Riff-Raff..Neil
Magenta....Layla
Columbia...Kate
Rocky......Charles
Eddie......Martin


Coming soon... cast pics and biographies! Watch this space!
Wanted:one Rocky Cast!

If you live near Edinburgh and are interested in being part of a new Rocky cast,e-mail Paula at neutron@globalnet.co.uk

If you hear of any Rocky going on in Scotland that I don`t have on this page, please e-mail meand tell me about it!

And for info about the Scottish performing cast,Dr Scott`s Extra Forks (with whom I play Magenta!) visit Martin`s Page with a cast history,pics and links!(see here for new Cumbernauld and RHS pics!)
Meanwhile,for all your cult film needs in Glasgow,visit the Fleapit Film Club website!(This is a film club that Emma(our Frank),Neil and I run!
Hope to see you at a show sometime!