New York Convention 1998
I was incredibly lucky to attend the New York Rocky Horror/Shock Treatment Convention on April 4th 1998.It was my first ever convention and was really great!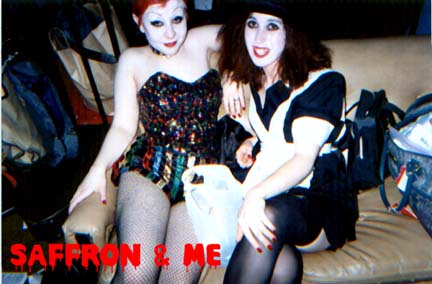 The con was split into two parts:day and night.The day part was held at the famous S&M club,The Vault(which made for interesting decoration-Frank would have approved)I immediately gravitiated towards the merchandise,but being a poor person who`d come all the way from Scotland(and had to get back again),I thought I`d better not buy much.
No sooner had we started to chat with fans from all over the world,it was time for the preshows.They were all good but particularly amazing was A Jump To The Left`s news broadcast.Also I may be biased but I have to mention Emma Taylor`s fab rendition of Mein Herr from Cabaret!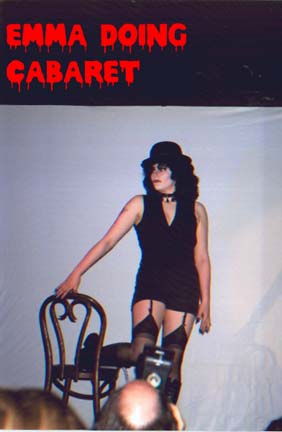 I don`t remember the exact order of things but I do know there was a call of free food right before the costume contest so there was a mad rush as people tried to consume vast amunts of food without damaging their make-up.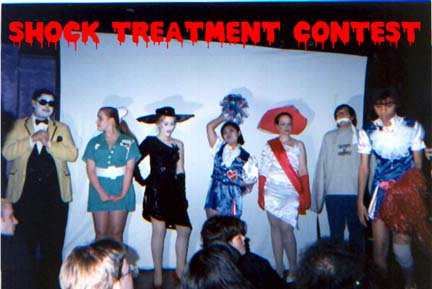 The contest was nail bitingly close,particularly for the Columbias. There must have been about 15 of them in almost identical outfits!I didn`t envy the judges at all!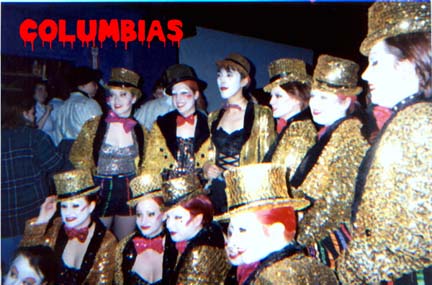 Highlights for me were Emma and Martin winning best Frank and Eddie respectively(go Scotland go!),Sherri Timmermann winning best Dr Scott and the guy who dressed in practically every costume Tim Curry has worn in his whole career,stripping them off until he came to Frank. Wow!That was amazing!He totally deserved to win the prize for originality!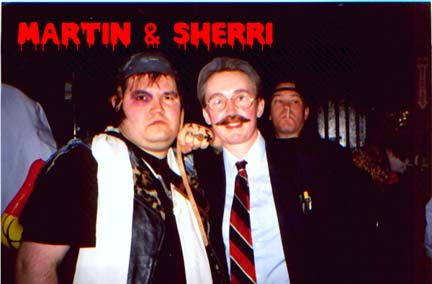 There was of course the raffle and then the big moment:Nell Campbell`s appearance!!!Some of the Columbias looked like they would faint with excitement as Nell,7 months pregnant and looking gorgeous, answered everyone`s questions with humour and sweetness.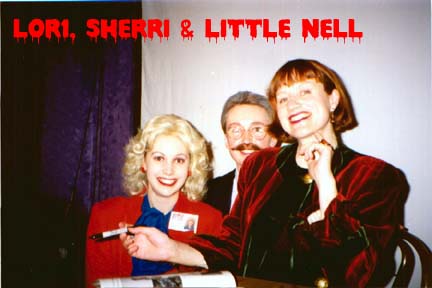 After the huge queue of autographs had been satisfied it was time for the auction.The Frank and Riff dolls from the 23rd Anniversary Cake were sold,amongst other things.
Shock Treatment followed and having never seen it with a cast,I loved it!The props were particularly impressive and the cast were truly amazing,particularly Lori Timmermann,Jessica Feldman and Kevin McCreesh but the latter almost made the title Shock Treatment all too true as he sprayed champagne dangerously close to the electrical boxes!Still alive,the day part of the con seemed to be over.I must admit Saff and I were given some strange looks on the subway home in our full Columbia and Magenta gear!
When we got to the cinema that evening,I had to leave Emma,Saff and Martin since they were performing and I wasn`t so I got a seat next to a lovely NY woman who furnished me with every possible prop I could ever want!I didn`t get her name,but thanks!
The preshows were cool although everyone was disappointed that Sal didn`t get to do his mystery number as the sound system failed.The theatre looked grea as the performers could use the stairs up the sides(although this proved to be stressful for the lighting people who didn`t know where the performers had gone!)From beginning to end,considering the number of people in the cast(53 according to the programme),the fact that they`d had no rehearsal and that nobody knew what they were supposed to do til they got to the theatre,the whole show was fantastic!!!The atmosphere was terrific and everyone threw themselves into their parts with massive enthusiasm!
Congratulations to Bill Brennan, Larry Veizel ,Mad Man Mike and Quad Wallace for pulling off such a huge event that I will remember for the rest of my life!

This page has been visited
times.