Layla`s Pretty Groovy RHPS Page Award
Do you have an informative,entertaining or inventive Rocky Horror page that you think deserves recognition??? Well you`re in luck!!!Submit your webpage and you could win this Prestigious(haha) award to display on your page!!!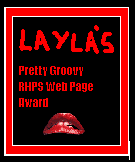 ---
Criteria for Winning
1.Your page must be related to RHPS
2.It must be well organised and attractive
3.All links must work and be relevant
4.The page must contain your own ideas and info
5.The page should contain good images
6.The page should entertain visitors
7.The page should seek to offer more than the average RHPS Page

---
Or e-mail me!
Previous Winners
Sanity For Today
This is a site dedicated to audio and related RHPS collectibles.It has masses of info about almost all rocky audio that exists,as well as RHPS news,Richard O`Brien Pics and a little bit about the author`s own life with Rocky and other stuff!It`s a really informative page which is invaluable for the collector!
TCurryGirl`s Rocky Horror Page
This main page leads to a vast amount of shrines to RHPS characters(which are pretty entertaining and interesting),some RHPS actors and lots more including costume advice and info about her local Rocky.I particularly love the images on this page!
New York Rocky Horror Cast Page
This is one of the best cast pages I`ve seen!As well as biographies, cast lists and photos,it also has a special events page,chat and lots more!
Cosmo`s Factory
Probably the best Rocky Horror site on the web,Cosmo`s factory has just about everything you can imagine concerning RHPS and Shock Treatment!A highly interactive site,as well as up to the minute news and interviews,Cosmo has games,chat,classifieds,a problem page and even a fan database!!!There`s so much more you`d better see it for yourself for anything you`re wondering which concerns RHPS or ST!
Riff Rag`s Rocky Horror Home
This page has lots of unusual stuff,including exerpts from "Midnight at the lost and found",an RHPS book written by Riff Rag himself!It also has fanzines,song chords, great links-including one to all the US casts-and sounds,icons and screensavers for the Rocky Horror fan! One of the best things about this site are the animated gifs(some of which he has kindly allowed me to use on this page!)

Return to my main page!
---
If you have a web page you want to improve,you should go to Website Garage.They assess your site for free and help you improve it.It`s really easy to use and has fantastic advice!It also lets you submit your site to search engines.If you`re trying to make a great website,this is the place to go!
---
Please note:Layla`s Pretty Groovy RHPS Web Page Award is a fun award,in no way official,awarded at my humble discretion to sites which meet the above requirements.I will not hand out the award at random;only truly good RHPS pages with lots to offer visitors will be considered.Winning will mean that as well as as your being able to display the award image on your site,I will link to your page from here and write a short review,encouraging others to visit.
I am aware that my own page is less than perfect.This award only represents my opinion and acknowledges my respect for the superior RHPS sites on the web and hopefully points my visitors in the right direction.No offence is intended!